NEW POSTERS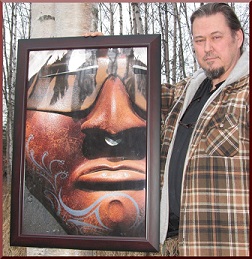 Hello Friends,
It's been a long busy winter, we're now heading into spring 2015. Please take a look at my portfolio but keep in mind that all works are original. If you happen to like the style of a particular piece, you are welcome to contact me and we can work out any details. I will be working hard to restock galleries soon with my new works. If you have any questions, please feel free to contact me by email and I will get back to you shortly. Hope you have a fantastic spring.
Thank you for your continued support,
~David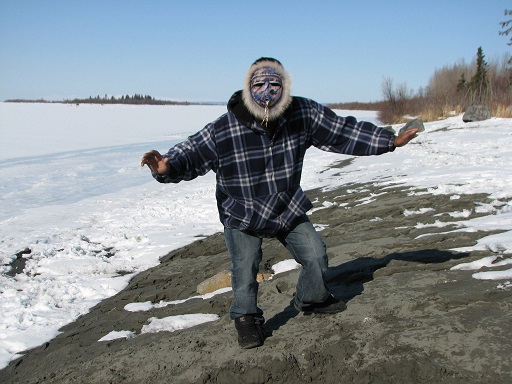 David's friend Jared models one of David's masks
*While you're here, please take time to sign my Guestbook!
Are you an Artist or a Copy Machine?
"For years I've not understood how a person can copy work from years past and call it art. Then it had meaning, maybe a purpose, and now a price tag. I find it sad as a Native American artist, that we have not just lost our way in things, now our things are for sale for the low, low price of no self-respect. And no respect for our elders. See through the eyes of tradition, but step firmly into your future. Stretch your talent like your legs. Once again, make your elders proud. You are not a copy machine, you are an artist." ~David Groat
David Groat is an Aleut clay sculptor from the Bristol Bay area of Alaska. He is descendant of the Qagaan Taya}ungin tribe of the Unangan people (named "Aleut" by Russian explorers). David's ancestors are from Unimak, the easternmost island of the Aleutian Islands which extend westward from the Alaska mainland. Like those before him, David and his family depended on the sea for their livelihood, fishing for salmon in the Bristol Bay waters. Influenced by the land, the sea and his people, his art reflects his culture, yet is contemporary in design.
David is a graduate of the Institute of American Indian Art, Santa Fe, New Mexico. He has won many awards for his imaginative clay masks and sculptures. His work is strong and powerful, full of depth and definition. David hand-builds each mask and figure, and paints them using variations of native designs of antiquity and ideas developed from stories and images of his own life. He decorates his masks with artifacts, as well as stones, driftwood, bones and shells he's collected along Alaskan rivers and beaches. Even rusted metal washed ashore becomes part of his work. Each piece is unique, a free-flowing creation of stunning beauty and individuality.
"I enjoy all aspects of my art", David says. "From the hand building with the clay, to exploring beaches for embellishments, to taking photos of the finished piece. Beginning to end, it's all about discovery. I find the entire process to be very exhilarating and gratifying."